Regular price
$0.00 USD
Sale price
$22.00 USD
Unit price
per
Sale
Sold out
Do you want to further purify your tap water?
Try our Smartbottle™ Water Filter System!
Smartbottle™ Water Filter provides a coconut shell activated carbon purifier along with Calcium Sulfite CaSO3, Maifan Stone Mineralization Balls, Tourmaline and a Main Filter element that helps to do the following:
Effectively absorbs residual chlorine and peculiar smells in water.
Filters out residual chlorine and chloric acid.
Releases minerals and replenishes trace elements.
Removes heavy metal ions  in water preventing minerals from scaling.
Intercept impurities generated by pipeline rust, sand and colloid. 
Step up your Carbon Foot Print reduction goals by using the Smartbottle™ Water Filter

When you use Smartbottle™ Water Filter together with Smartbottle™ you help:

Replace up to 1,500 throwaway bottles of water 
Save over 17 Gallons of petroleum that would be used to make all those throwaway bottles.
Save over 50 gallon of fuel that would be used to transport the bottles to you.
Reduce waste by using your water filter with a Smartbottle™ and eliminate approximately 15.67 lbs of non-recyclable PET from landfills with each Smartbottle™. Also, by using the full life of Smartbottle™ Water Filter together with Smartbottle™, you will eliminate 64 lbs. of non-recyclable PET going to landfills. 
*Fits most standard faucets
Share
View full details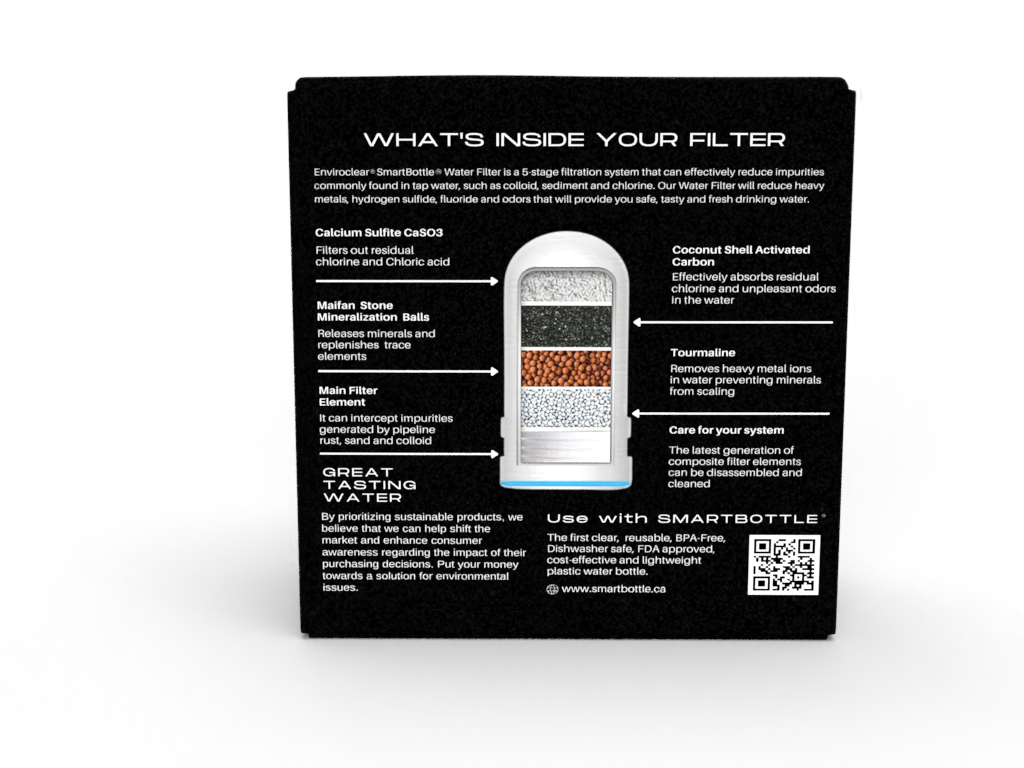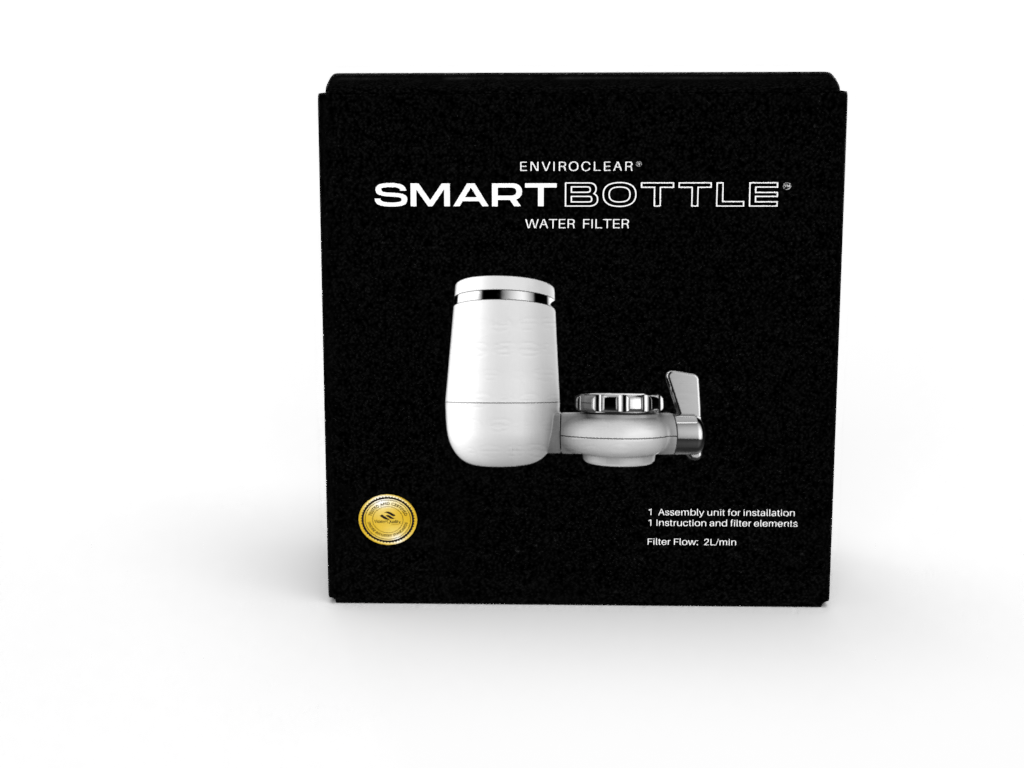 Extras
Regular price

Sale price

$3.00 USD

Unit price

per

Regular price

Sale price

$3.00 USD

Unit price

per
Smartbottle™ Key Features
Sterilizable

Can be sterilized with boiling water
Dishwasher Safe

Can be put in the dishwasher hundreds of times per year.

Recommended Dishwasher Detergent: Finish®
Shatter Resistant

Smartbottle™ is resistant to breaking or cracking unlike metal or glass bottles.
Lies flat without rolling

Smartbottle lies flat and will never leave you.
BPA FREE

No harmful toxins to leach into contents
Space Saver Stackable

Because of its square shape, Smartbottle™ stacks 30% less space than a round bottle.
Microwave Oven Safe

Smartbottle™ can be put in the microwave to sterilize or reheat soup, coffee, tea or anything else you want to reheat or sterilize.
Freezer Safe

Smartbottle™ is safe to store in the freezer
Can be used for a baby bottle

Smartbottle™ is manufactured from the same material currently used for baby bottles for over 25 years.
Environment-friendly

Smartbottle™ is a wonderful example of applying "reuse" as a sustainable environmental strategy, as it can be cleaned and reused countless times. It is not wasteful or harmful to the environment. If disposed, it can be recycled and reused in many industrial and commercial applications like car parts, shampoo bottles and food storage containers.
Best Product!
This is really best product i have ever seen! Thank you!
Why does Smartbottle™ look like a disposable bottle?

The fact that Smartbottle™ looks like a disposable bottle makes it familiar and easy to use. Other reusable bottles are either made of polycarbonate, which is not BPA-free, or metal. Metal bottles can be difficult to adjust to and may not be as comfortable to use. Just remember--Smartbottle™is REUSABLE and DO NOT throw it away!

Can Smartbottle™ go in the recycle bin?

Most municipalities accept #5 as in restaurant takout containers. There are many recycling applications for #5 (polypropylene).

Can Smartbottle™ that is filled with water be left in the car?

Disposable PET bottles filled with water should not be left in the car as there is a risk of acetaldehydes from the PET leaching into the water. This process is accelerated by the hot temperatures that would be in the car from the greenhouse effect of the glass windows. Smartbottle™ is a polyolefin and is not part of the family of PET throwaway/single-use bottles and there are no acetaldehydes in the chemistry of polyolefin.

How does Smartbottle™ compare to metal refillable bottles?

Smartbottle™ is clear and you can see what is inside the bottle at all times. Metal bottles are not clear.

Smartbottle™ does not impart a metallic taste which happens with metal bottles.

Smartbottle™ is a fraction of the weight and cost of a metal bottle.

How long will my Smartbottle™ last?

Our ongoing testing at over 400+ dishwashings of Smartbottle™ is continuing. In our ongoing testing phase, we have users who have been using their bottles for over 3 years.

How often should Smartbottle™ go in the dishwasher?

Smartbottle™is dishwasher safe and can be sanitized in the dishwasher as often as necessary.

Is Smartbottle™ safe for children?

Smartbottle™ is BPA-free and is definitely safe for children. Smartbottle™ has the same material used for baby bottles for over 25 years.

Is the cap on Smartbottle™ dishwasher safe?

Yes, it is dishwasher safe because it is made of the same material as Smartbottle™, which is dishwasher safe.